Move-out Information
If residents fail to provide proper and timely notice of their move out, they may continue to remain liable for payment of rent or cancellation fees. Residents are billed until all personal items are removed, keys are returned to the building superintendent or via the Express Move-out box, and the Final Checkout is completed in the Housing Portal. 
INSTRUCTIONS 
Prior to Move-out: 
Notify Columbia Residential of your move-out via Housing Portal. Log in and select the Moving Out tab. 
Review Cancelling Housing to determine if a cancellation fee will apply. Please note, rent is not prorated during the final month of the housing agreement, regardless of the move-out date that month.
Contact the building's superintendent to discuss the building's specific move-out procedure. 
Residents at Lionsgate (520 West 112th Street) must follow procedures outlined in the Lionsgate Move In/Move Out Guidelines. 
Residents at New Residence Hall (517 West 121st Street) must follow Teachers College Housing Move Out Guidelines. 
If a moving company will be completing the move, a Certificate of Liability Insurance (COI) is required and must be sent to Columbia Residential at least 48 hours prior to the move. 
On your Move-out Date: 
Remove all personal belongings from the unit, including any personal property in shared or common spaces.
Clean unit: empty refrigerators and cabinets, remove all trash and sweep all floors. 
File forwarding address with the United States Postal Service. 
If applicable, officially disconnect utilities with Con Edison and cable services with Spectrum or Verizon. 
Return all keys to the building superintendent during moving hours on the day of move out, or outside of those hours using the Express Move-out Box.  
Complete Final Checkout in the Housing Portal. 
Kindly note, residents will be billed until all of these steps are completed. 
Keys must not be left in the apartment or room. Failure to return keys to the superintendent or the Express Move-out box will result in a $100 fee plus key/cylinder replacement fees, if applicable.
Move outs and key returns should be scheduled during business hours: Monday through Friday, 8 a.m. to 4 p.m. (excluding holidays).
If you need to move out outside of these hours and you'll be moving furniture or other large items, you may apply for an after-hours move at least 72 hours prior to your move. Please note, move outs and key returns that happen outside of business hours will result in a $250 flat-rate fee for a two-hour moving window. For information about scheduling a move outside of business hours, please contact [email protected]. 
If you won't be moving furniture and only need to return your keys outside of regular moving hours, you may return your keys to the Express Move-out box. Kindly note, you must follow all other move-out guidelines to avoid any additional charges.  
Express Move-out allows vacating students the option to return keys outside of building staff working hours, at a time that is convenient for residents.
Residents who choose the Express Move-out option to return their keys must follow all other move-out guidelines. Furniture and other large items must be moved during moving hours. Residents who vacate using the Express move-out option waive the right to appeal any charges that may be applied due to failure to properly vacate.
After removing their belongings from the unit and once ready to return keys, residents should complete the following steps to complete their Express move-out:
Visit the Express Move-out key-return box located in the lobby of 419 West 119th Street, directly to the right of the door attendant's office.
Fill out the top portion of the Express Move-out envelope.
Remove keys from the key ring, place all keys inside the completed envelope and seal it. Fill out and use multiple envelopes if all keys cannot fit into one envelope.
Remove the yellow portion of the envelope and keep it for their records.
Place the sealed envelope in the Express Move-out box.
Residents are billed for housing until all their belongings are removed from the unit, keys are returned and Final Checkout is completed in the Housing Portal.  
NOTE: The Final Checkout tab will be grayed out until your move-out date. You will only have access to the tab on that date. 
Once keys are returned, please log into the Housing Portal and follow the following steps to complete Final Checkout: 
Confirm move-out date: In the Moving Out tab, click Submit/Confirm/Update Vacancy to confirm that your move-out date is listed as today. 
Complete Final Checkout: Click Final Checkout and complete and submit the information requested. If you are moving out today but aren't able to access the Final Checkout tab, you may need to update your move-out date. (see step 1).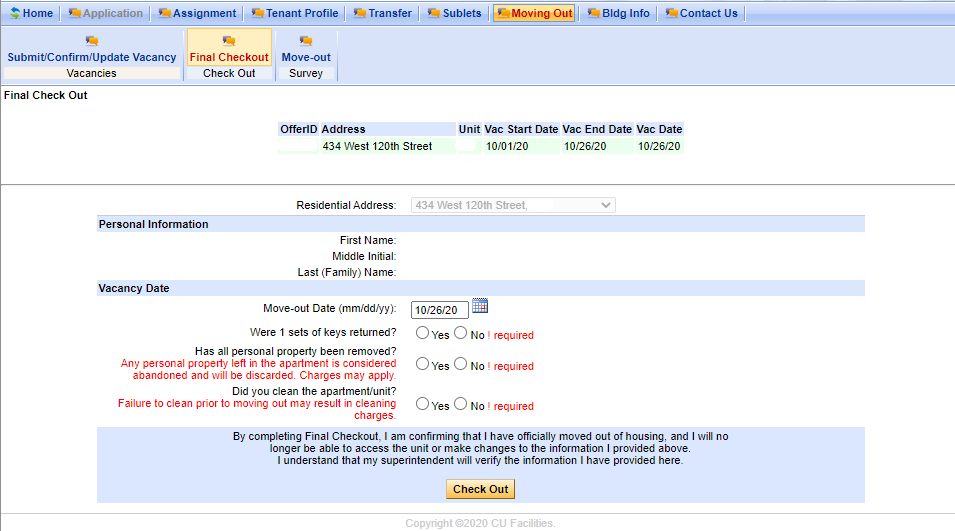 After you complete Final Checkout, your building's superintendent will inspect your apartment and confirm the information you provided. If there are any questions or concerns regarding your move-out, Columbia Residential will reach out to notify you. Any questions or concerns can be directed to [email protected]. 
If a resident is transferring from one Columbia Residential unit to another, we will create a move out notice on the resident's behalf so that they do not need to create one. Transferring residents will receive the keys for the new unit on their move-in date, and will have until 4 p.m. on the following business day to remove belongings from the previous unit and return the keys to the superintendent.
Billing for the previous unit will end on that date, and billing for the new unit will begin on the following day.
Residents who overstay their housing agreement or fail to move out by their required move-out date may be charged a $1000 fee for overstaying. Additionally, the University may commence legal proceedings if a resident remains in housing beyond their required move-out date.
Student residents who lived in units billed through Student Financial Services paid a reservation fee to accept the housing offer, which is credited to the student account during the first semester in housing. No additional credits are applied upon move-out.
For faculty, staff and postdocs who paid a security deposit, it will be refunded in accordance with the terms of the lease and mailed to the forwarding address provided in the move-out notice. 
See Reservation Fees & Security Deposits for more information.
Proof of residence or residency verification may be downloaded from the Housing Portal. Residents may access this document in the Tenant Profile by clicking Verification Letter to download a PDF that includes basic information about their residency: resident name, address, agreement start and end dates and monthly rent. Note: only the resident of record will be listed in this letter. Family members will not be listed in this standard letter, nor will proof of rental payment.
For more information (including how to request residency verification for a partner or family member who resides with you), please review Residency Verifications.