FAQ | Affiliation, Housing Agreement and Renewals (Faculty, Staff & Postdocs)
Affiliation Review
This refers to the end date of your appointment with the university and the amount of time residents are eligible for housing.
Your "affiliation end date" is the date you provided when completing the housing application and it is the end of appointment with the university.
Absolutely!
IMPORTANT: The request should match your appointment dates as it will need to be confirmed by your sponsoring/hiring school/department. You may submit a request to have this date updated, via the Housing Portal.
Wondering where to go? Log into the Housing Portal, click on the Tenant Profile, and submit the request in the Affiliation tab by selecting the "reason for the change request" and new anticipated end-date, then click Update Affiliation. 
Here's what it looks like: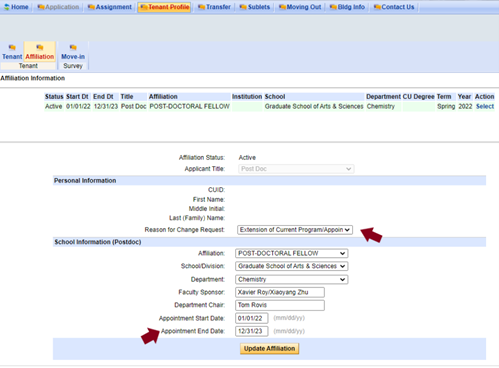 Affiliation Review requests can be submitted at any time, and certainly as soon as you know your appointment has been extended. Columbia Residential will also send reminders about your affiliation ahead of your renewal.
Be sure to review the "Affiliation Review" section of the Housing Agreement and Renewal webpage.
Residents may request an affiliation extension by logging into the Housing Portal, going to the "Tenant" tab and "Affiliation" subtab. Update the affiliation end date and select the reason for this change (Extension of Current Program/Appointment).
If your request is denied you will be required to move out by the end of your current agreement. Please review our Moving Out Guidelines for more information about the process.
IMPORTANT: Requests are generally denied if your appointment is not extended, has already ended or if you are transitioning to a position that does not hold housing privileges with Columbia Residential.
If your appointment with the university has ended you must vacate within 30 days from the end of your affiliation or by the end of your current agreement, whichever comes first.
A move-out notice will be submitted on your behalf once your school notifies Residential of your leave.
If your partner has more time in their appointment and they are eligible for your current housing please email this request to [email protected]. Approval is contingent on the following: the eligibility of the partner, the current unit and school allocation approval (Postdocs.) We cannot guarantee this will be accommodated, but we are happy to look into this for you if you contact us.
Housing Agreements/Renewals
Transfer applications are reviewed between October – March, and approval (if granted) does not always coincide with when your current agreement may be ending.
You may only apply for a Transfer if you have an active housing agreement. Be sure to sign your renew the Housing Agreement (if eligible) to continue to be eligible to apply for transfer in future.
Affiliate partners can only be listed in your agreement as additional occupants – not as "lease holders."
To list a partner as an occupant in your apartment you must be in a private apartment (studio, one-bedroom or family unit) and log in to your Housing Portal to update your profile information under the Tenant tab.
Residents in couples or family housing should review the Couple and Family Housing Compliance for more information.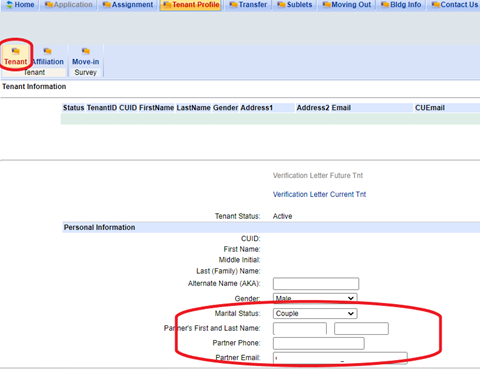 If your appointment under your current affiliation and department has been renewed, you will be eligible to receive a Housing Agreement Renewal as long as you remain a full-time affiliate eligible for university housing with Residential.
Residents who received housing off the Postdoc Waitlist will only have a 12-month affiliation. To be considered for more time in housing, you must first submit an affiliation review request by updating your end date via the Housing Portal and be approved for an allocation by their sponsoring school.
Housing Agreement Renewals are emailed to eligible residents approximately 1-2 months prior to the end of their current agreement.
It will be sent from DocuSign; please check your junk/spam folder of your email inbox if you are unable to locate the email.
The Housing Agreement will be for one academic year or until the end of your affiliation, whichever comes first.
Requests for customized agreement lengths will not be considered.
Sign the housing agreement renewal and submit a Move-Out notice for the specific date you would like to move out. 
The renewal's expiration date is highlighted on the DocuSign webpage. We recommend signing the renewal at least 5 days before the expiration date.
If you intend on extending your housing, the renewal must be signed as soon as possible! Remember, the signed agreement must be reviewed and processed by two other staff members.
No need! You will have ample time to read and sign!
Your Housing Agreement Renewal's expiration date is highlighted on the DocuSign webpage. It is emailed to your Columbia email address; be sure to search your spam/junk folder if you do not receive it immediately. 
If the housing agreement renewal expires, we will assume that you no longer need housing, so you will need to plan to move out at the end of your current agreement. If you accidently let the renewal expire, please email f[email protected] immediately. We cannot guarantee that we can send you another renewal, but we would be happy to investigate options if you reach out to us immediately after the renewal expires.
Your housing agreement renewal is reviewed and completed after you sign. You can expect a copy of the renewal, emailed via DocuSign once other staff members review the document. 
PLEASE NOTE: We may have a high volume of renewals and inquiries within April and May. Please expect a delay in receiving the completed document. 
Have a question you think we missed? 
Email us at [email protected] so we can address your question and possibly add it to this page to help other potential residents!